(Help us welcome debut author Lisa Turner. Word of mouth on her fab Southern Gothic Suspense has been outstanding. )
THE GOOD GIRL TRAP
What a kick! My first blog for Riding With the Top Down. Another first was a recent signing for my debut novel, A Little Death In Dixie. The universe has turned a full rotation since I started that book, but the people I've met and the lessons I've learned made it all worthwhile.
Want an example?
Last week in bumper-to-bumper traffic I pulled in behind a cherry red Mercedes convertible. A sticker on the back read: Well-behaved Women Rarely Make History.
We all know that, right? We're assertive women, right? I changed lanes and waved to the woman driver whom I noticed was wearing Jackie O. shades. Her bumper sticker reminded me of another bit of wisdom from Story, Robert McKee's brilliant book on screenwriting that I'd taken instantly to heart after months of struggling to write my Southern suspense. He said: Good girls don't write good fiction.
What a choice! Be a good girl or write good crime fiction.
Are you kidding me? I'd rather make history and write a good book, but old ways die hard, especially when the cultural hook is set so deep it's hard to wriggle away. Especially when you grow up in the South, in church, and you're a Daddy's Girl and a natural born pleaser. It's enough to keep a Southern lady like me in line.
Shut yo' mouth!
But I didn't want to shut my mouth. I wanted to write a good book. That meant I had to tell the truth. In my world, a nice girl rarely admits to painful truths, much less writes down the kinds of truths that make her chest burn. Writing about perversion, guilt, shame . . . family secrets, even when they aren't my secrets (not exactly my secrets) made me squirm.
A Little Death In Dixie Whose death was it? Just a character's death or the death of my good girl front? Both. And let me tell you…nothing is as hard as ripping away your own cover. Damn, that smarts.
So there's the trap. After years of avoidance, I had to feel these awful, un-lady-like emotions and look nasty realities in the face because I wanted a toehold in the writing world.
Did I pull it off? I hope so. We'll see how readers respond.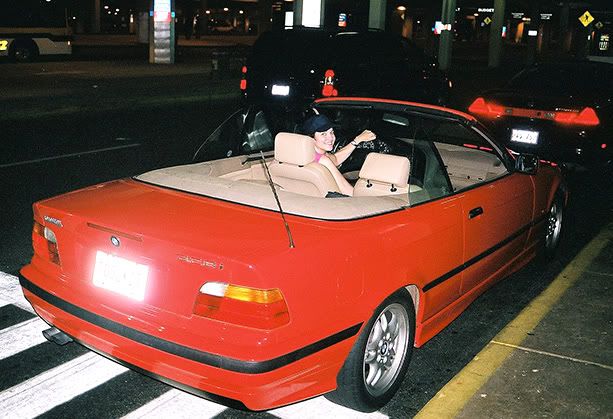 In the meantime, while I don't actually own a red convertible, I drive one on occasion.
How do you make sure your nice girl persona gets out of the way of your dreams and ambitions?