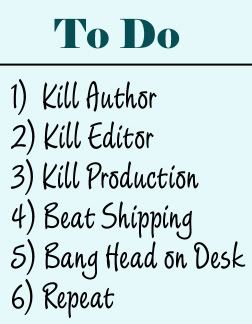 I was busy working in LOOW (explained later) when my reminder for blogging popped up.
I like reminders. I like lists. I like organization. I like beating chaos into submission.
Because we have offices in more than one state, our seamless dance of communication was often more like ballet dancers performing in crocs. To keep us on track as we've grown, we have "The LOOW." (List Of Organized Wonder)
Seriously. That's what we call it.
LOOW is a fairly complex online "shared" spreadsheet that tracks everything in process at our publishing company (Bell Bridge Books/ BelleBooks). We know every task that needs to be done for a book, if it's been done, who's doing it. We can track by date or book or responsible party. We can all work in the spreadsheet at the same time, adding information, updating status, etc. If I want to know what ads we have placed? Go to LOOW. If I want to look at the Publishing Schedule? Go to LOOW.
If my assistant is working from home because of ice and snow? Go to LOOW instead of a file cabinet or our "real" publishing software.
I thought you might be interested in seeing how a book goes from "bought" to "published." Every publisher has a different rhythm, a different internal lingo. (i.e. LOOW) One item below might actually be 3 or 4 tasks rolled into one. For instance, "Manuscript Accepted" seems easy enough, but first you have to edit the book and provide the author with revision guidance if needed. That's not quick. That's hours and hours of work. Then you have to review the book when it's returned, sometimes do another quick revision pass, review the book again, notify the author and accounting that the book is accepted.
The list changes slightly for every book, new routines or sales channels get added and have to be managed, but in general this is how we push a book out the door and "publish." Enjoy! I hope.
Copy of Deal Memo to Legal/Acctg Editor
Issue Contract Office
Contract Returned Office
Author set-up Paradox/Peachtree Office
Title set-up in Paradox/WIP/contracts Office
On Signing Advance Issued Office
Manuscript Due Date Editor
On Acceptance Advance Issued Office
Review permissions/legal issues Group
Manuscript Accepted Editor
Early MAJOR Reviews Marketing
Initial Pricing Discussion Group
Assign ISBN Office
Book put into Production - Paradox Office
Line Edit Due Editor
Cover tag or quote Editor
Review Pub Date Group
Cover Concept (trim size?) Art
Early Annotation of Title Group
Book Any Advertising (calendar date mechanical due) Marketing
Copy Edit Due Editor
Scribd Excerpt Upload Production
Design Galley Cover Marketing
Dedication/Acknowledge/Back Matter Editor
Wash Manuscript Production
Preliminary print resolution cover Art
Galley Production Editor
Final pricing discussion Group
Set up early review copies - Library Thing, etc. Marketing
Back Cover Copy Editor
Author bio (long & short) plus pic Editor
Video Trailer Begun Marketing
Schedule Author to Blog Office
Final Front & Back Cover (recheck trim) Art
Add cover if book "early annotation" Art
Final Marketing Sizes of Cover Art
Fictionwise Cover to Production Art
Interior Book Design Production
Page Proofs to Author/Proofer Editor
Set book up with printer Office
Web Site Update for Title/Author Office
Video Trailer posted to YouTube Marketing
Audio Book upload Group
Page Proofs Returned Editor
Send Print Review Galleys Marketing
Install Corrections Editor
Interior Final Print PDF Production
Offer e-galleys to Bloggers & Reviewers Marketing
Pull Spine and assemble Full Cover (recheck spine) Art
Recheck Paradox Retail Price Office
Upload files to printer Art
Fictionwise Upload Production
Place Initial stocking Order (+ author + promo) Office
Mobi file to Office Production
Files to Archive: Fictionwise RTF, Base Word file Production
Standard Subrights Submissions Editor
Buy all Fictionwise editions Office
Newsletter article to DD Editor
Subrights submissions Editor
Tweet Availability Marketing
Social Media Marketing
PUBLICATION DATE D-DAY
Confirm Amazon/BN, wholesaler, etc. upload Office
Kindle file submission Office
Scribd Full Book Upload Production
Ship Author Copies Office
Ship Promo Stock Office
Copyright Filing Office
On Publication Advance Issued Office
Author blog uploaded Office
Upload Archive Materials to File Storage Site Office