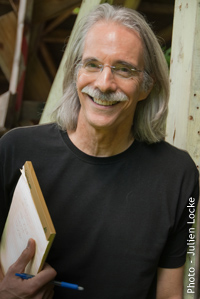 (Please help us welcome Mark Nykanen! Mark is a four-time Emmy and Edgar-winning journalist, and acclaimed author of extraordinarily tense literary thrillers that feature protagonists who find themselves pushed to the absolute extremes of behavior and imagination.)

HARDCORE FANS AND HAPPINESS
Most folks who come to my readings have become familiar with my novels only recently. I'm guessing that hardcore fans, if they show up, don't
always let you know of their presence. Why do I say that? Wouldn't they want to make themselves known? I'm not sure.
Based on reader reviews of my earlier books, some folks who like my work also question my sanity. That's in addition, of course, to the readers who don't question it all because they think I'm a psychopath and warn other readers to turn around and run the other way if they ever meet me. I'm not kidding; you can see these kinds of comments on the Amazon pages.
But this doesn't bother me because I figure that I'm doing my job well if readers simply cannot distinguish between the author and his work.
Then there are the hardcore fans who do seek you out. A young woman came up to me at a reading the other night holding a copy of PRIMITIVE and a dog-eared advance review copy of THE BONE PARADE. At a glance, I knew that the latter had been read many times. If further confirmation were needed, it came when she told me that she adored BP and had, indeed, read it over and over.
Her name was Caitlin, and she said she'd started reading me at fifteen. After BP, she'd gone back to HUSH, read that, and then read SEARCH ANGEL when it came out.
"I've been waiting years for you to come back here so I could get you to sign this." She held out the weathered copy of BP and the unwrinkled trade paperback of PRIMITIVE. I was so pleased to inscribe both books for her, and only gently surprised when her mother took a photograph of her daughter standing next to me. It was a cozy reminder that readers' passions are very important to us. Now here's what I truly love: Even as I write these words, with my wife driving down an interstate to Portland, Oregon, my eleven year old daughter is in the seat right behind me saying "Oh God, Oh God, he's such an evil bastard." No, she's not talking about me, but about a character in the audio book that she's listening to.
I strongly suspect that my daughter may one day approach the author of a book that sparked her emotions, and say something like "I've been waiting years for you to come back here so I can have you sign this book."
Or perhaps she'll be an author herself. She's already started writing
two novels. One of these days she may finish one of them. Or both.
Or maybe those chapters will be like the novel I started writing at age eight. I never finished it but it was definitely a starting point.