I've been doing a bit of thinking lately. The world of publishing is changing so quickly. Authors have new opportunities and new challenges in getting their work in front of readers. New technology and the technical savvy of many of today's authors have demystified the how and what and when of publishing. Anyone under 60 in today's world who isn't accomplished on the computer is woefully behind the times. We have to assume the number of technically savvy authors will only go up in years t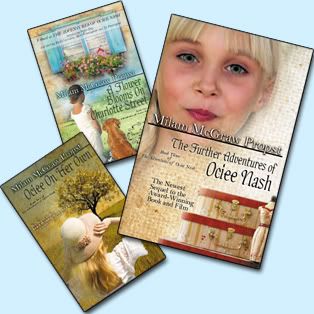 o come.
So. One has to begin wondering if publishers will play a role in publishing in the future. What value are publishers to authors? To readers? Is publishing going to go the way of the telex machine? (Email killed it.)
Instead of the one, old, tried-and-true "ship a ton and accept returns" business model of publishing, there are a zillion new models. So much more content is being published these days. Any author with a computer can put up a website and begin publishing. Authors publish their own work through Amazon. Many of the print-on-demand printers will happily fold the author into their title list and get the author's book listed at Amazon, BN, Borders and at the wholesalers. There are tutorials to guide the author through the process of producing a print book via the online interfaces of the print-on-demand printers. (BTW, the titles above are an upcoming YA series from BelleBooks/Bell Bridge.)
So, do we need publishers? Really?
One company on the internet exists to bind and print CUSTOM anthologies. The user can browse their offerings via the internet, select from a wealth of material, according to their own reading preferences. You can even choose your own cover and title, and they'll send you your professional quality trade-size book for $ 14.95. The company has a review process for adding content to their database. They pay straight royalties, no advance. This new business model is actually pretty cool for interested readers who'd like to collect some of their favorite authors in the same book. Or stories of a similar theme, etc. The reader is, in a small way, being her own publisher, picking and choosing and investing money.
While this custom
anthology bit is fun and probably useful in its way, the process points out exactly why I hope we don't lose publishing as an industry. I think readers need some way to sort through the incredible amount of material out there. After one particularly frustrating session of browsing through all the "noise" of so many new unknown authors in Amazon's Kindle store, I decided that the value of the traditional publishing system is... ::gasp:: ...cultural arbitration. There. I've said it. I'm not saying that I like anyone having control over culture, but think about this for a minute. Think about the sheer number of new books out there. Not to mention reprints and multiple editions of a book like the reprint of ON BEAR MOUNTAIN which should be out from BelleBooks/Bell Bridge in early August.
"Based on preliminary figures from U.S. publishers, Bowker is projecting that U.S. title output in 2008 decreased by 3.2%, with 275,232 new titles and editions, down from the 284,370 that were published in 2007. Despite this decline in traditional book publishing, there was another extraordinary year of growth in the reported number of "On Demand" and short-run books produced in 2008. Bowker projects that 285, 394 On Demand books were produced last year, a staggering 132% increase over last year's final total of 123,276 titles. This is the second consecutive year of triple-digit growth in the On Demand segment, which in 2008 was 462% above levels seen as recently as 2006." -- Bowker (exclusive U.S. ISBN agency)
HOLY COW, BATMAN. How do we sort through all of this? And that was only 2008. The numbers are rising.
From my perspective as a reader, if I trust a publisher, I know I'm buying a book that has risen like cream to the top of a mountain of manuscripts. I know the book has been edited. I know someone invested significant money in bringing the book to market.
Yes, yes. I all know we have wall-banging examples of badly edited pieces of crap that were foisted on us by big publishing, but by and large, the traditional publishing model worked from a quality standpoint. It sucks on many levels, but not for quality. Am I ready, as a reader, to have to
sort through everything that's out there as it all floods the market? Or do we look to quality publishers to do some of that heavy lifting for us? Does it make a difference to readers? Will authors know how to reach readers? Can they find me so I can find them?
Of course, the flip side to this coin is what publishers mean to authors. The short list of value is the oversight of distribution, subrights representation, marketing and production values a publisher normally brings to the table that an individual author might find important. Most authors would find it prohibitive to carry media liability insurance, for example.
Still, J.A. Konrath, author of the popular Jack Daniels books (Cherry Bomb is in hardcover), has been experimenting on Amazon Kindle with his unpublished early books. Per his blog, where he has kindly shared hard numbers, his income is up to about 30K a year from those titles. Of course, he has a BIG string of books from a major publisher. Let's do keep that in mind. This isn't Nancy Nobody trying this experiment. (His large publisher ebook numbers versus his home-grown ebook numbers on one title? 10,000 versus 1,600)
I don't know what will happen as we move into the future and absorb the changes for authors and publishers. I just know something's in the air. We're crossing the crossroads and the next adventure in books is beginning. I'm not sure I like it as a reader. I'm not even sure I'm ready for it as a publisher! (I still love my Kindle but I'm beginning to worry about the book *buying* experience.)
Do you think we need to ditch publishers? (It's okay. I can take it. I want honest opinions from authors and readers.)