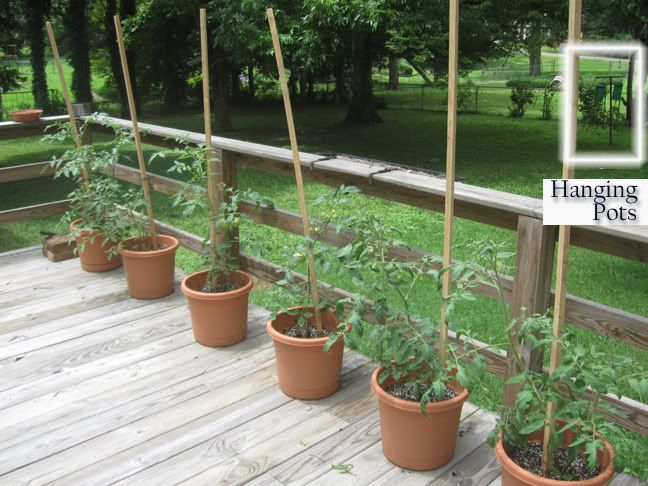 No, not me. Not yet.
But let's talk retirement in general.
The economy has dealt some of us a setback in our retirement plans. For others the economy offered a chance (a push?) to retire early.
As everyone scrambles to re-evaluate the portfolio, we've been thinking of the day in that distant future when we could "retire."
How do you retire? Not the money part...that's a moving target. But the life part of retirement.
Yes, I know we have many writers who hang on this blog. And a fair passel of dedicated readers. But let's put books aside for a moment. Let's pretend you can't READ or WRITE in retirement. ::gasp::
I've always been a firm believer that you can't do just one thing. I think we need to keep our minds sharp. Learn new things. Tackle the scary.
This year we tackled tomatoes. (You can see 6 of our 18...ahem...plants in the picture. You can see 2 more if you squint really hard at the things labeled "hanging pots." When I sent the pic to a good friend, he sent me back links for 6 tomato recipe sites and told me we were going to need them.)
We can grow tomatoes, but I'm not sure if gardening goes on the lifestyle list for retirement. Did you know there was dirt involved ?
If we've got tomatoes covered, how are we going to spend our retirement? This lifestyle issue is also a moving target. We used to think we might travel but we've traveled so much for our work, that travel isn't as appealing. Although vacation/retirement travel IS different. I get that. But...been there. Done that.
Hubby plays and builds guitars. He's rebuilding a "numbers matching" '67 SS396 Chevelle (?) They were all excited when it came out of the garage recently. And yes, this is a pictu
re of the car on that day only a few weeks ago. All the work is under the hood. Years of work. All original. (Excuse me while I laugh hysterically.) Weeks and months of running down parts. A zillion phone calls that started with "Well, if you're going to do X, you might as well do Y." Wheedling his way into the restorer's heart so that he's now a fixture at the shop. They're almost through with all the what-makes-it-run-good stuff. Next comes the body and interior, which is a whole new shop from what I understand. A whole new set of wheedling. And there's talk of the "next" car.
Hubby also plays golf.
He's covered for retirement, I think. 3 strong diverse interests, plus "honey do" work.
I'm evaluating. Am I covered? Will I be happy in retirement? Will I actually do the things I have planned or will I let time slip by and wake up one day realizing that I waited so long to get my retirement started that I didn't do the things I'd dreamed of having time to do.
How about you? Are your retirement activities planned? Do you know what you're going to do with the rest of your life when you don't HAVE to do anything with the rest of your life?