I have one. I love and adore it. Once I finish my TBR stack, I won't buy
paper books unless I can't get the title for the Kindle. And then…I'll probably think twice. I thought this feeling might wear off, but it's been a couple of months now. I'm still rabidly pro-Kindle.
Harsh, huh? I'm part of an ownership group for a small publisher. We publish paper books and we'll keep publishing in that format as long as readers want them. We also publish in Kindle, other ebook formats and audio. Not to mention most of our books are in large print from Thorndike or Centerpoint.
But my reading experience is now electronic. I need to build my romance library for the Kindle. Why? Because I looked today and my Kindle is all fantasy. Partly because I've been acquiring fantasy lately and partly because a beloved author is going to have a new book in a series coming out and I have to "reread" the old books so I can jump right in.
Still, I love romance. So…my Kindle is sad.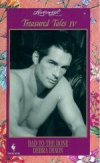 I need you. What is the "essential Kindle library" for a romance reader? I'm heading to a desert island and I need a list. (Not really, but play along.) I'm going to up
date this list from the comments. Tell your friends to come give me their recommendations. Let these books be the MOST beloved. Let's try and limit to four. (Yeah. Aaannd right.)
Remember! The list will grow through0ut the day. Published authors have to add ONE book from their backlist. Which book is special? It's hard to choose, but choose you must.
ESSENTIAL ROMANCE BOOKS THAT SHOULD BE ON EVERY KINDLE: (multiple votes are in bold)
A Place to call Home – Deborah Smith
A Rose For Maggie – Kathleen Korbel
Agnes and the Hitman – Jennifer Crusie & Bob Mayer
Ain't She Sweet – Susan Elizabeth Phillips
Bad To The Bone – Debra Dixon
Blue-Eyed Devil – Lisa Kleypas
Charming the Prince - Teresa Medeiros
Codename: Princess – Christina Skye
"Crazy" series – Tara Janzen
Crazy For You – Jennifer Crusie
Dead Until Dark – Charlaine Harris
Devil's Cub – Georgette Heyer
Duncan's Bride – Linda Howard
Flowers From the Storm – Laura Kinsale
French Twist – Roxanne St. Claire
From This Day Forward and Tryst – Elswyth Thane
Good Time Girl – Candace Schuler
Heaven Texas – Susan Elizabeth Phillips
Highland Warrior - Monica McCarty
Hot Target – Suzanne Brockmann
How To Knit A Wild Bikini - Christie Ridgway
Hummingbird – LaVyrle Spencer
Into Danger – Gennita Low
Kill Me Twice-Roxanne St. Clair
Kiss Me Deadly – Michele Hauf (it's free at Amazon!)
Lord of Scoundrels – Loretta Chase
Lord of Ice – Gaelen Foley
Lord Perfect - Loretta Chase
Mackenzie's Mountain – Linda Howard
Masquerade – Susan Carroll
Miracle on I-40 – Curtiss Matlock
Mr. Irresistible – Loretta Chase
Mr. Perfect – Linda Howard
My Lady Notorious – Jo Beverley
No Place Like Home – Barbara Samuels
Nobody's Baby But Mine – Susan Elizabeth Phillips
Now You Die – Roxanne St. Claire
Once & Always – Judith McNaught
One Perfect Rose – Mary Jo Putney
"Only" series - Elizabeth Lowell
Outlander – Diana Gabaldon
Over the Edge- Suzanne Brockmann
Pleasure for Pleasure – Eloisa James
Pride and Prejudice – Jane Austin
Romancing Mr. Bridgerton – Julia Quinn
Romeo & Juliet - Shakespeare
Saving Grace - Julie Garwood
Shelter Mountain – Robyn Carr
Show No Mercy – Cindy Gerard
Sugar Daddy – Lisa Kleypas
The Bad Baron's Daughter – Laura London
The Crossroads Cafe – Deborah Smith
The Duke - Gaelen Foley
The Grand Sophy – Georgette Heyer
The Last Bachelor – Betina Krahn
The Last True Cowboy – Kathleen Eagle
The Rake and the Reformer - Mary Jo Putney
The Tiger Prince – Sandra Brown
The Wicked Lover - Julia RossThese Old Shades – Georgette Heyer
Till the Stars Fall – Kathleen Gilles Seidel
To Sir Phillip With Love – Julia Quinn
To The Edge- Cindy Gerard
Too Much Temptation- Lori Foster
Venetia – Georgette Heyer
Walking After Midnight – Karen Robards
Welcome To Temptation – Jennifer Crusie
White Lies – Linda Howard
So…what are you waiting for?? I need your help. Which books should I buy for my Kindle Romance Collection?