Charity work isn't new to most of us. We all give a little here. A little there.
So, when a group to which I newly belong began to speak of their charity project, I nodded and applauded the good work and told myself they had plenty of people working on the project. They make quilts for one of the local children's hospitals. Many of the children come from far away, especially for the new heart program. Their families don't have much money. Often the treatment is free. But hospitals can be cold, sterile places and putting a quilt into the hands of an uncertain and scared child at just the right time can make such a difference. Quilts allow the parents to wrap the child up and hug them tight. (I feel like a book can do that too.)
Most of the quilts made and given are "quick quilts." Just squares sewn together, usually out of some mixture of kid's fabrics and quilted on the machine. Nothing fancy. The last time the Chairman took a batch of quilts up, some nurses grabbed the small ones and took off for the nursery. I thought, well, I can certainly make a quilt that's only 24" x 24" if they need them that badly. You see, when some of the babies die, all their family might have is that quilt. It's not just about comforting the child.
You don't have to hit me on the head. I began to understand that this was Important Work. I made one one of these small quilts. A very humbling experience. Then I made a second and now I'm working on the third (see above) called "Cowboy Dots" and much cuter in person. I'm going to take some grief from the Program Chair. Or at least get the award for "Most unnecessary hand work on quilts which will know vomit."
It's not my fault. Seriously. The first charity quilt I gave them was hand-quilted because I was "testing" out my hurt finger. (Remember the I-almost-cut-off-part-of-my-finger finger?) So, after machine piecing the top, I selfishly used the little quilt to get back in quilting-shape. The Chairman smiled and patted me on the hand as if I was half-witted. "No one hand quilts these, dear. They're charity quilts."
Thank you. I was soooo confused.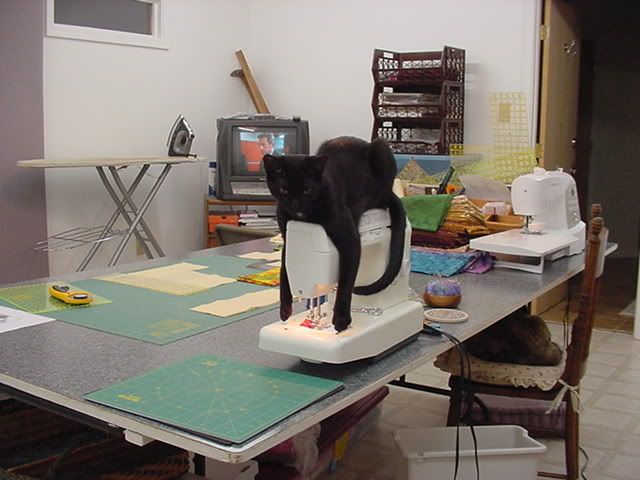 Then on the second itty bitty quilt, Evil Kitty (black cat) grabbed the finished quilt top off the studio table and ran like the hounds of hell were after her. By the time I caught her, I HAD to applique two hearts on the quilt to cover up the big honking tooth HOLE. I applique by hand. And if you hand applique...you might as well hand quilt. Oh, and put the binding on by hand too! See? It's not my fault. They still laughed at me.
By the time I got to #3, I surrendered and accepted that for whatever reason, I'm supposed to make these quilts my way and not the quick way. Even if I'm destined to win(?) the "Most Unnecessary Workmanship" award.
Please tell me I'm not the only one who is in the running for a "Most Unnecessary" Award. Where is your over-the-top Achilles Heel? Is there an area in your life which takes that little bit of extra time and you're not willing to do less? Or don't want to do less? Come on. 'Fess up. You're in good company.