Before I get to the things I "wanna" do, I should say a word or two about why I've been so quiet lately.
I had an accident on December 13th. About 1/2" of the end of my middle finger of my right hand had to be put back on/together. And it was broken. Typing has been an issue for me! We think and hope that all will be well in time. Although there is every possibility that healing will take a while and that the final result may not be as spectacula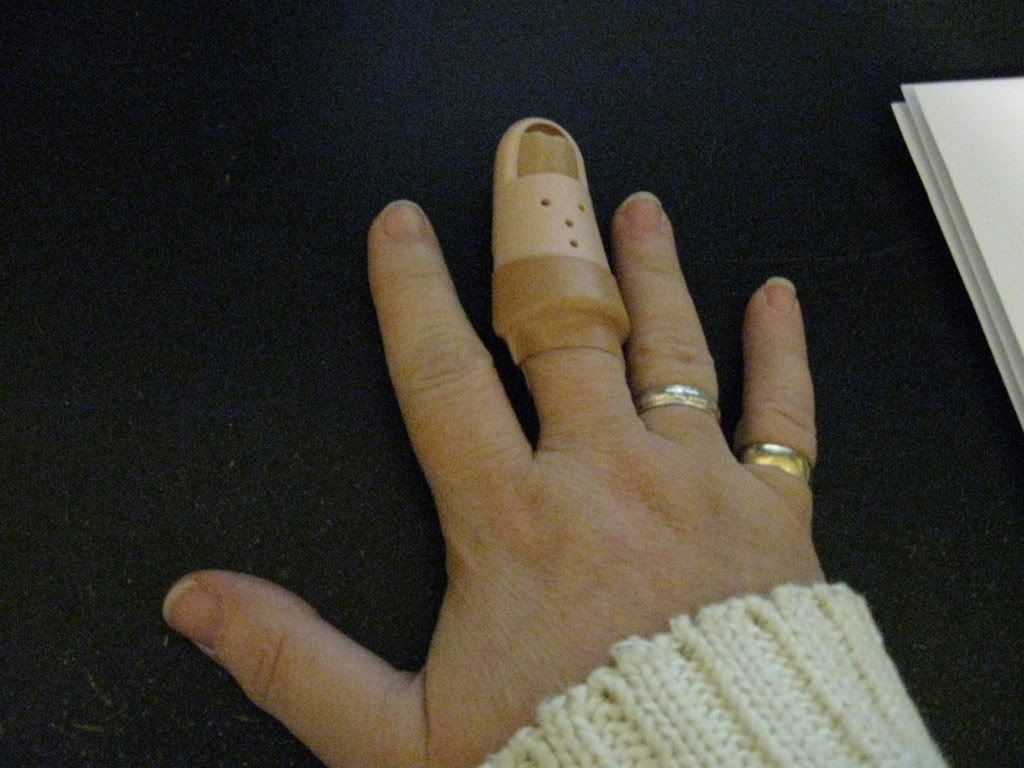 rly attractive as it once was. There is a little lawsuit and the attorney doesn't want me discussing the accident.
Suffice to say that the "i" and the comma! are typed with the middle finger of your right hand. And then there is the ten-key pad. That has been impossible. I'm hiring extra help to get me through the end of/first of the year.
So...I haven't been ignoring you but constantly backspacing to correct the "i" and whacking the finger keeps me pretty quiet online.
The accident and the sheer number of things I can't fully do in the last 3 weeks (try putting on socks or tying shoes and forget quilting or taking this picture left-handed when the button is on the right-hand side) had me thinking about how we should have experiences and embrace life NOW and not tomorrow. We should cram it all in while we can. The smallest things can der
ail your plans. Don't give chaos a chance to "reign" in your parade.
My uncle, Mike Martin, has been grabbing hold of life and strapping in for one heck of a ride since he retired. He's one of those guys who spent his life outdoors. Former President of the Forestry Association of America, did forestry consulting, managed timber, and owned a number of sawmills. He's always been in good shape. In 2008 he made the trip to base camp. That's the base camp at EVEREST.
He became so interested in the plight of the sherpas there that he's beginning work on a foundation to supply some of their needs like water treatment facilities. And he's talking about signing on to one of my husband's company's humanitarian missions. They go built schools and small local hospitals. All volunteer and that means you volunteer your cash to get you there and back!
One of the other things my uncle has done is sponsor a leg of the whooping crane migration. "Huh?" you say. This is real. They imprint the whooping cranes in Canada on an ultra aircraft. Then they fly them down to the United States along a route which will be "their" migration route. My uncle sponsored a leg of the journey that went over his home county. And he's wheedling his way into the good graces of the or
ganization so that he can maybe fly a leg of the migration next year!! Here are some pics of him in the aircraft and then of the birds following the plane across Hardin County, Tennessee.
When it snowed on his farm he had his wife tow him up a big hill which we now call "Manbone Mountain" and he skied down it. This was recent, not ten years ago!
And they are planning a return trip to Everest. He just got back from some conservation work in one of those South American wilderness areas. I think they boated up a river while charting trees or something. Sound like a snooze to me but this is something he wanted to do and by golly he made it happen. He devoted his time and money to it.
He was going to drag us on one of these adventures but my mother (she's 11 years older than him) said, "Dude, you can drag me onto a cruise ship in the Greek Isles but that's as 'back to nature' as I'm getting." So, this summer my bestest, favorite uncle in the whole world is taking his girls on a cruise to the Greek Isles. (Mom, Sis and me) I definitely wanna do that.
But there are a lot of things I wanna do. And my husband thinks he wants to do one of the humanitarian trips. We're making plans. We're going to stop saying, "Wouldn't it be neat..." and instead we're going to say, "How can we make this happen now?"
What do you guys have planned? How are you going to get involved in your life and in the lives of others this year? Do you have big dreams or small dreams? Both are okay! Right now I want to stop saying I'm going to put together a quilting book and I actually want to plan, execute and get those quilts made this year!