No. Not the game! Well, at least not the
video
game.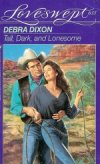 We're talking about the real time, real human art of intimacy. The unwritten rules we live by which keep us safe. Oh, wait. They were written down, by Desmond Morris in "The Naked Ape." That's pretty much what humans are you know. We have a nicely polished veneer. We have a fabulous fashion sense (when we choose to employ it) and we can read. But we're still creatures of instinct.
Take that lovely cowboy cover of my first Loveswept. How well do you think you'd have to know a guy to let him wrap himself around you and grab hold of your waist? Pretty darned well or you'd be uncomfortable at the least and terrified at the worst.
Why? Because we build trust in other human beings one step at a time. Just like everything these days, "intimacy" has its own twelve step program. Each step is critically important to the development of relationships. Here they are:
1. Eye to Body.
Like it or not we all have a type. That first cursory glance gives us information, lets us know if this is the kind of person we'll let into our circle.
2. Eye to Eye.
This is the first make or break moment. There is risk here. What if the other person looks away? Looking away quickly and then right back is okay. That signals interest. But what if the person merely looks away in disinterest? There's a crushing blow to the ego!
3. Voice to Voice.
This helps us determine if we can communicate, do we have common interests, do we think alike, can we have points of agreement on which to build? There is a sensual component to the voice as well.
4. Hand to Hand.
Here's a biggie. By extending your hand to someone when we were still clubbing mammoths for food, the extendee was taking his life in his hands. An injury to a hand meant probably death. Life was too risky with only one hand. Mammoths are big. So, there is risk in extending the hand. The open hand says, "I'm vulnerable. I have no weapon and I'm willing to try." Even though the hand is a big step on the intimacy scale, it's as much about friendship building as relationship building. The individuals can stop here. No harm, no foul. If the individuals move farther down the steps of intimacy, things can get tricky. Expectations will begin to rear their ugly heads.
5. Hand to Shoulder.
When men do this, it's the buddy thing. A symbol of approval. Women don't seem to clasp each other on the shoulder, do they? But if a man puts his hand on a woman's shoulder he darned well better have permission to do so or it's considered an aggressive move. Women take their shoulders very seriously. (I personally think this may stem from those early days of bra wearing when the boys had to snap the backs and straps.)
6. Hand to Waist.
With the exception of those moments when we say, "Cheese!" for pictures, you don't find a lot of hands/arms around the waists unless there is an established relationship. And generally you don't find this in same sex relationships. (We're looking a the hetero situation at the moment.) The waist is halfway between some pretty interesting body parts! Vital organs are only an Aztec priest's grasp away. Tingling things begin to happen. Young men's thoughts turn to fancy. And there is an element of "claiming." Of ownership, doncha think?
When a heroine is put in a situation in which the hero has to say...teach her to rope and his arm's around her waist, this will be awkward if the relationship's emotional trust hasn't built to allow for this leap in physical intimacy.
7. Face to Face.
Anytime *anyone* gets in your face this is a clear invasion of your space. How someone invades your space can make you weak in the knees or make you go for your gun. For an emotional bond to continue, couples allow this face to face contact. This is a rehearsal for other more intimate acts to come. A small moment to lose themselves and recover. Rejection after a successful kiss is likely to smart quite a bit! If a kiss is rejected, you can bet the rejected party is going to be reviewing all the signals to this point and wondering where they've gone wrong.
8. Hand to Head.
Heck this goes along with # 7 usually. But consider the danger. A blow to the head and you're dead. That's why this is so far along the scale of intimacy. Remember this instinctive reserve and need to define our space is grounded in genetic memory and basic survival. How many of us immediately move our head away from someone who's reaching out to remove a leaf or tuck a loose strand of hair back? It's instinct to move our heads away from any invasion of space. Only our most trusted circle can enter this zone unchecked.
9-12. These last four are *definitely* sexual and should be private, but sadly these days (g) they are not. Private, that is.
(9) Hand to Body,
(10) Mouth to Breast,
(11) Touching Below the Waist, and
(12) Intercourse.
There you have it. Mankind's roadmap to sex, bonding and space invading. Teenage boys have always known that if they can just get that arm around a girl's shoulder in the movies that they were making significant progress.
Is it any wonder that the romantic clench has always held such special importance to romance readers? We can read the messages and signals sent by that body language. To the outsider the pose might look physical, but we know that the emotional bonding comes first. Nature set up a system to help our brains and hearts bond first.
So, who's been flirting with their eyes lately? Creating a little interest? Did your sweetie-pie skip a few steps? (That ratchets up the stakes and the temperature real quick!)