When I was a kid, I used to watch reruns of Bewitched and I Dream of Jeannie and imagine being able to do magic. Who wouldn't want to blink their eyes and have a brand new bike or a clean bedroom? But no matter how hard I wished or how many times I used my finger to twitch my nose, I still had to pick up my own clothes.


Since I couldn't do magic myself, maybe I could find a bottle or a lamp with a genie inside. Three wishes were better than nothing, right? I kept my eyes open as I explored the neighborhood, but alas, the pop bottles were marked "No Deposit, No Return" and I was doomed to disappointment.


I might have gotten a little older and a little wiser since then, but I've never stopped dreaming about magic. It's why I fell in love with the paranormal romance genre. I could read stories about supernatural beings doing cool things--vampires, werewolves, ghosts, and yes, genies and witches fighting the bad guys and falling in love. Cool!


I've almost always managed to slip a paranormal element or two (or maybe three) into my own books, heck, I even did a story with two half demons as the hero and heroine, but I've never written about magic users, not even when I was a kid scribbling in a notebook. Until now.


No one was more surprised than I was when Ryne, the heroine of In the Midnight Hour, showed up and started talking. She didn't tell me anything about herself, but shared information about her people. The Gineal are magic users who hide in plain sight by living among humans. She's a troubleshooter, which means her job is to fight members of her society who've turned to dark magic as well as other creatures who walk on the dark side.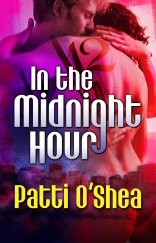 For the last six years, she's been trying to catch her former mentor, Anise, and has fallen short each time. But when she rescues Deke, the hero, from a dark spell cast by the other woman, Ryne thinks she's found the key to defeating her teacher once and for all. Too bad Deke's memory is spotty and he doesn't have a clue who Anise is.


Can I confess that I had a huge amount of fun writing this story? Maybe it's not as cool as having powers of my own, but Ryne's a lot tougher than I am and more altruistic. Hey, I still want to clean my room (and the rest of the house) with magic! My goals might not be lofty, but at least they're consistent. :-)


So if you had magical powers what would you do with them? Would you fight evil like Ryne? Turn to the dark side and become an arch-villain like Anise? Or going back to I Dream of Jeannie, would you be Tony Nelson, determined to do everything without magic or Roger Healy who wants money and riches from Jeannie?



www.pattioshea.com

Watch the Super Cool Midnight Hour Video

Want to win an autographed copy of Patti's THE POWER OF TWO? One winner will be drawn from all of today's commentors. Check back tomorrow for the winner's name.