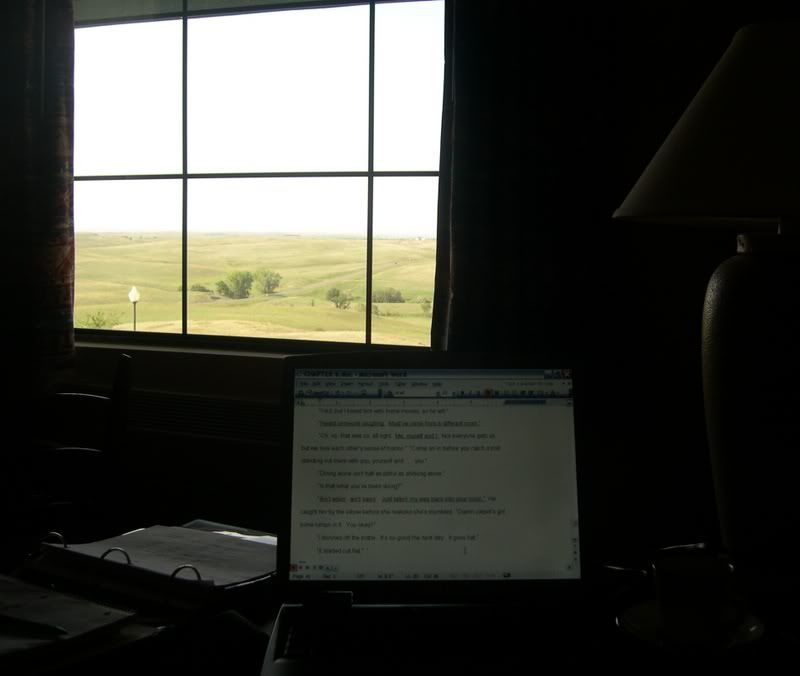 I know I've showed you this photo before, taken during my Writer's Runaway in the Little Hotel On the Prairie where a week of total WIP immersion helped me really get going on this one. But now I'm back in the real world, and one thing after another conspires to impede my progress. Mostly it's family stuff, and the truth is that whether it's the best of times or the worst of times, Real Time does more of a number on me these days than it used to.
Writing requires sustained concentration. I really had it going when I locked myself in this small space with nothing but the laptop (had to make friends with that little contraption--hadn't used one before--but now I like it) and a window on the prairie. I keep taking this picture out and trying to get back into this place mentally. But then comes the call or the writing on the calendar, and I go and do. When I get back, the words aren't there. Not even the crappy ones that will do for now until I find better ones.
So it's my day to blog, and blogging requires words, and I have no words. My brain is behaving like a stubborn child, refusing to do its chores. My theory is that if I start functioning in the left side of the brain, which is more cooperative, I can sneak over to the right side when that recalcitrant child isn't looking. So I start thinking about right vs left brain, and I google it because I can't ever remember which is which at the moment, and I find a quiz. Ah, distraction. I take the quiz, and it tells me I'm 40% left brained, 60% right. It could be worse, I guess. If I were 50-50 I'd be really conflicted.
Okay, words are coming now. My fingers are moving. I actually did something--got off square one.
So here's a question for you: What do you think your percentages might be? Mine surprised me a little. Try predicting yourself first, then you can take the test here: http://www.blogthings.com/areyourightorleftbrainedquiz